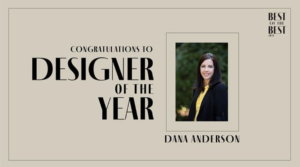 We are excited to announce Planning Interiors Inc. has been nominated as the Designer of the Year by the IIDA Georgia Chapter! Our CEO, Dana Anderson, founded Planning Interiors Inc. 8 years ago and has been a part of the Atlanta interior design business for over 20 years.
Since then, we have been a part of various projects ranging from offices, gyms, and pet spas. We are so grateful to our clients, partners, and our team for making this happen!
At Planning Interiors, we are known for being great communicators who listen to our client's specific needs. Our designers are trained to understand the key components of a traditional real estate transaction and can perform all design aspects of a project.
Commercial Interior Design
Our commercial interior design team works with a variety of tenants and commercial real estate brokers in the Atlanta area to create an office environment that excels in both form and function.
At Planning Interiors, we take pride in creating functional and beautiful commercial interior designs in the greater Atlanta area for both landlords and tenants. We will meet and work with our clients and/or designated representatives, to plan, design, and create a commercial interior design that meets their brand, requirements, and budget.
Residential Interior Design
Our residential design team works with clients and specialty consultants to design luxury home renovations, additions, and interior décor for any style home.
Planning Interior's Residential Interior Design representatives will guide you every step of the process to create your dream home. From the initial interactive meeting with our Design Team through the execution process and final design reveal, we guarantee you'll love your newly designed space!
Our clientele has grown to include names like Archer Western, Epic Offices, First Financial Security Inc., Grey Orange, and Schoolhouse Brewery, to name a few.
We have recently expanded our business to include Florida interior design as well! We look forward to future projects and are excited to be recognized as a leader in the industry. We will work hard to uphold the name.