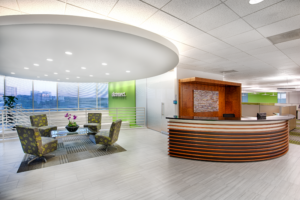 Whether you refer to it as an entryway, foyer, lobby, vestibule, or reception area, a few hard and fast suggestions can help businesses looking to revamp or create this important space.
Don't overwhelm. You may want to post every news article, thank you letter, or picture of the company softball team but consider whether these are appropriate. Maybe just presenting a few of these will suffice to show that you're popular with customers and involved in your community.
Abstain from trends. This is not an absolute. If you are a social media or PR firm, indulging in a few trendy pieces will not seem out of place. But for the majority of businesses should stay away from hip for now items like: Chevron art, string art, vinyl quotes on walls, industrial chic furniture, and fake animal heads.
Lighting is tops! Make sure your lighting takes into account the mood of those visiting your office. If at all possible, let natural light shine. Use subdued lighting for doctor's offices, dental offices, physical therapy, counseling, etc.
Entertain if wait time is involved.
Finance and investment firms benefit from having clocks showing the time in different financial markets. In addition, having TVs turned to Bloomberg TV or Business Week is informational. Find a few additional free online TV options here.
Anywhere children can be expected should have children's books, TV or touch screen games, or quiet toys. Recently we visited a clothing store, Evereve, that has a children's play area. Because clothes shopping with a child is right up there with having a root canal, Evereve appreciates this and makes it easier for mothers to shop in their stores.
Magazines are great for doctor's offices and car repair shops. Make sure you have a wide variety to suit teens through senior's tastes.
Select comfortable furniture. Pay attention to how it will wear over time and consider who will be visiting you. Couches and loveseats are not always good unless families or groups of people visit your business. Single chairs made out of wood or fabric or a mixture of the two are ideal. Avoid leather as it can become super soft and tired looking with frequent traffic.
Build in some space for storage and mail delivery. Having a tall stack of mail and boxes can obscure your employee's field of vision and create a cluttered, trip inducing space.
Arrange chairs correctly. Aligning chairs in rows is not ok unless you are a teacher. Rather, create little nooks and spaces for 3-4 seats. Set up furniture as you would in a living room to make your lobby more comfortable.
Lobbies are the first thing your customers see when they enter your place of business. Furthermore, lobbies are a reflection of your company's personality and appreciation for quality. Since your lobby is saying something about your business, ensure it is speaking your customer's language.