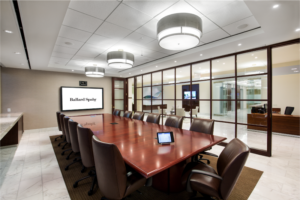 Open and Traditional Offices – Can You Have a Blend?
If this blog title is giving you déjà vu, there's a perfectly good reason. We've blogged about traditional and open offices before. Heck, we're so obsessed we just made up the term "Tradopen" to describe the blend between a traditional and open style. But how can a company be all things to all employees and keep costs down and collaboration possible?
Before we can forge a solution, we need to understand the issues involved. Traditional offices get credit for less interruptions, more privacy, and increased confidentiality by offering a way to protect sensitive information.
However, rising costs of commercial office space and a desire for collaboration led more companies to switch to open office plans.
Open offices have their champions whose arguments in favor of are open to debate. There are claims of less email, increased fairness, fostering communication among teams, and more transparency.
One undeniable fact is that open offices save companies money. Consider a 6-by-6 foot cubicle. When dividers are eliminated and bench-like setups are used the space per employee drops to 2 feet by 4 feet. This difference matters. Behold Cushman and Wakefield's 3rd Quarter 2016 Marketbeat Report. Atlanta's office vacancy rate is a low 15.8% and overall asking rental rates in Atlanta set a new record this quarter ending at $23.38 per square foot.
Just because it's cheaper and is supposed to encourage collaboration doesn't mean complaints about distractions, increased sickness, and more noise don't matter.
We've talked about ways to modify the environment to block, absorb, and deflect distractions but we should also describe structural changes companies are making to find a middle ground between the two styles.
One option is floor to ceiling glass with optional etching. This allows light in, buffers sound, and creates a bit of privacy and is less expensive than full renovations. For extra sound deadening, add carpet. Another idea is to use glass partitions incorporated into cubicles, or as half walls, among desk farms. This adds partitions without reverting to traditional offices.
If you need a free way to block noise and are not able to implement any structural changes, may we suggest simple seating changes like orienting co-workers back-to-back instead of face-to-face?
Without as many walls, you can't utilize large whiteboards. But there are solutions like glassboards from Clarus.
Interested in exploring ways to transform your office space to "Tradopen?" Contact us today and we'll work to find a solution.