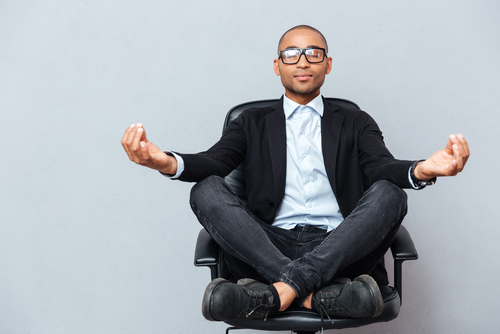 The reality of the typical office environment is this. You will be sitting a lot despite those articles about "sitting is the new smoking" and riding on a balance ball for 8-10 hours a day is impractical. We often work with clients to find the chairs that work for their office design, employees, and budget. Here are a few winners we've selected. These range in price but none is more than $220.
Price: $158.99 on Amazon
Pros: Forward tilt. The most common reason is that people want to relieve pressure on their lower back or tailbone. Compared to those working at a keyboard, this feature is idea for those who spend more time writing or drawing directly their desk surface.
A few highlights from reviews: One was titled, "My whole body said 'Ahhhhhh'"
And "Assembly was laughably easy", and our favorite, "Unless you get a good deal on a used chair, you would be hard pressed to find a better overall deal. I am a student, a gamer, and a web surfer – trust me."
Cons: It weighs 50 pounds – but it scoots and rolls, so who cares?
Featuring 2-to-1 Synchro Tilt Control, Adjustable Arms and Tilt Tension with Nylon Base.
Price: $136.04 on Amazon
Pros: Over 1,200 reviews and 90% are 4 and 5 stars. It is a sturdy chair that can support a range of different heights and weights.
The review highlights include, "I spent 17 hours one day with my butt stuck to this one while on the computer and my body didn't complain. Can't really ask for any better than that."
Cons: Some people complain squeaks but perhaps this could be remedied with WD-40.
Price: $173.69 on Overstock.com
Pros: It's sleek and ergonomic and comes in three colors of faux leather. Padding on the arms comes in handy.
Cons: Does not allow for tilting back. It is a very distinct style and may not work with the rest of your office décor.
Price: $216 on Overstock.com
Pros: Swivels and tilts in any direction you want and has a 5 year warranty.
Cons: If you are looking for sleek, this is not it.
Price: $60 at Office Depot
Pros: When you have to buy a large number of chairs, price will be a factor.
The vast majority of reviews are positive and contain phrases like, "like the color and comfort" "assembly was a cinch" and "expensive looking."
Cons: A few people stated that it "Feels cheaply made" and in our opinion the style is a little overwhelming, which could overpower other office furniture.
Admittedly, short of rolling in a bed, there is no magic answer that is going to turn a terrible office environment into "the job of your dreams." However, we can work with you to find the right style and price for your office or commercial space. Give us a call to talk chairs, or any other office furniture you're curious about. We'd love to help!