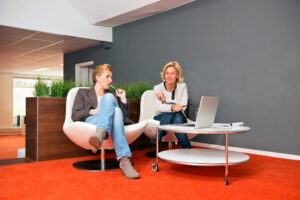 Whether you're just starting your own business or are an employee of a small company, there are many reasons you may be in a small office space and in need of some small office design tips. Small offices often get a bad rap, but we're here to tell you how you can spruce them up and make the most of your space (and maybe even like it more than its large office counterparts).
Maximize Space

When space is scarce, look for furniture with multiple uses to maximize the amount of open space in an office. For example, your waiting area or lounge can also be used as a group meeting place or brainstorm corner. You should also be wary of furniture size. Most office furniture is designed to be used in a larger, traditional office setting where space isn't a top concern. Taking the time to research smaller furniture options and determining how they will fit into your space is crucial to not feeling like you're stuffed in a box that's a bit too full.
Reduce Clutter
When a small space gets cluttered it feels even smaller and more cramped. It's important to avoid this issue, and creating multiple storage options can nip it in the bud before it even begins. While you might not have floor space to add storage drawers, empty wall space becomes your friend when adding shelves can create vertical storage. Think skyscraper, not ranch-style home.
Awaken Your Senses
Often times, small offices mean small windows or none at all. If natural light isn't an option in your space, opt for halogen bulbs that mimic sunlight instead of dingy fluorescents. Trick your eyes and make good use of mirrors, as they instantly make any space look larger. Often times, small offices can seem stuffy. Combat cabin fever by awakening your sense of smell with oil diffusers that can put out different scents meant to reduce stress and boost alertness.
We love designing small offices and we're excited to see more and more business with them! If you need help with your small office design, contact the design experts at Planning Interiors and we'll have your space feeling roomier in no time!