When it comes to the restaurant business, there are quite a few things that business owners need to know to make their business stand out from the competition. Believe it or not, one of the best ways to do this is through attractive, on-brand interior design. Quality restaurant design is a proven way of perfecting the ambiance of your restaurant as well as keeping customers coming back to your establishment. Not only that, but you can use your space as a marketing vehicle. From social media to your website, showcasing your restaurant's bold look is a great way to attract new customers. Plus, when it's done just right, your restaurant's design can act as an important building block for your brand.
Now, as with any design project, it can be difficult to know where to start. Our designers here at Planning Interiors put together a few of our biggest tips that will help ensure that your restaurant's design shines bright above the rest.
Make a Good First Impression
Just like creating the perfect lobby for a hotel or a reception area for an office, cultivating an inviting entryway to your restaurant is paramount to delivering a great first impression. While it's important to ensure hostesses warmly greet your guests, it's also important to make sure that the waiting area is both comfortable and eye-catching. Make sure that all the seating, lighting, and art choices are cohesive and on-brand!
Solidify a Seating Design Plan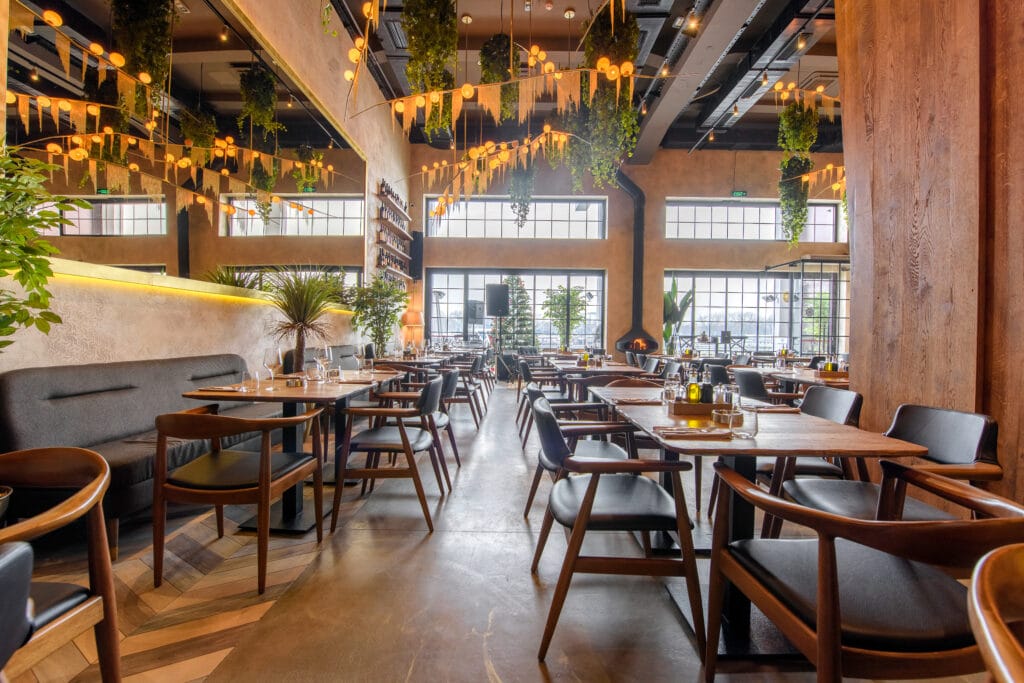 Creating an efficient and effective plan for how you'll use your restaurant's dining space is a critical part of elevated restaurant interior design. How and where your tables and chairs are positioned not only has a huge impact on the customer experience, but on the employee experience as well. Proper seating design can quickly address issues related to efficient seating, easy access to equipment, accommodating traffic-flow pathways for servers and guests, and more. When traffic gets congested and backed up due to poor seating design, service and table turnovers can experience a bottlenecking effect, resulting in customers feeling cramped and uncomfortable – which is the exact opposite of what a well-designed restaurant would have!
Have a Discernible Theme and Color Palette
Your restaurant's color palette should align with your restaurant's brand and concept and should be chosen with considerable care and thought. Interior designers like to utilize color psychology to subconsciously evoke emotions. In fact, different colors stimulate different emotions and can impact feelings of hunger, thirst, and comfort in people. The colors that you choose to integrate into your restaurant hold a lot of power, and can influence your customers in several ways – from the food they order to the amount of money they spend. For example, let's say your restaurant's brand is built on delivering a tropical, vacation-like experience for customers. Our designers would utilize some of your brand colors combined with warmer tones like reds, oranges, and yellows in your dining area to create a warm, paradise-like atmosphere.
Pay Attention to Trends and Design Accordingly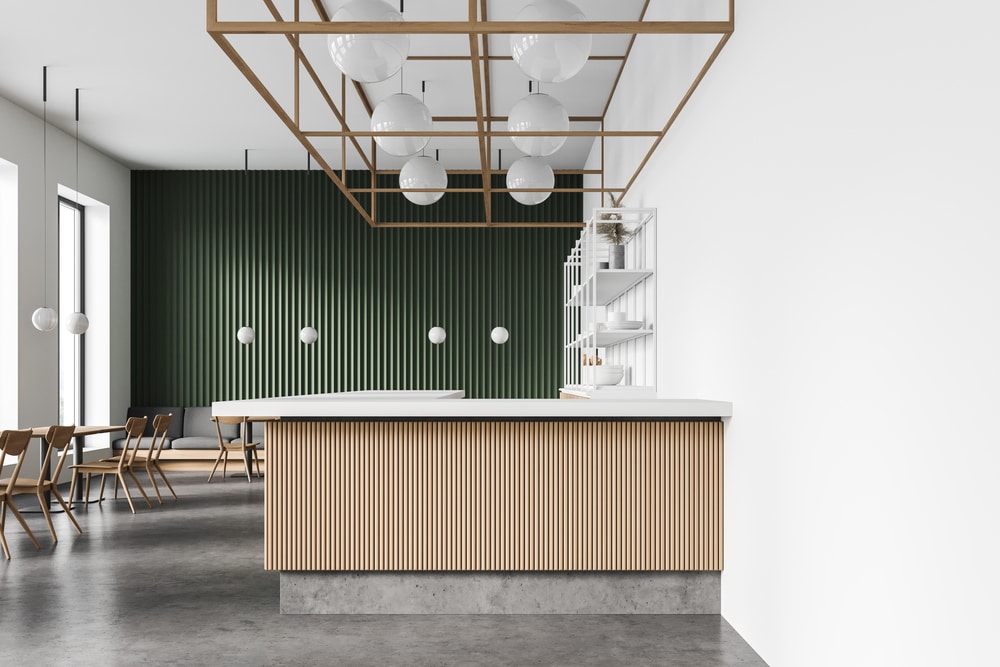 Especially if your competitors are utilizing certain design aesthetics or choices in their own restaurant design, make sure to pay attention to current trends to see if they fit within your restaurant brand and would work well with your vision for your restaurant design. One trend that we like to recommend for restaurants of all kinds is statement walls, especially if your restaurant space is in desperate need for a little more visual oomph. Statement walls are super versatile, so whether you're a high-end restaurant looking to incorporate a fresh air to your space or you're an eclectic, independent establishment on the hunt for a way to make your restaurant stand out, a statement wall is exactly what you need. From a mural to a block pop of color, statement walls can be almost anything as long as they're eye-catching and nice to look at. For example, if your restaurant has a minimalistic style, a more intricate mural would add some great dynamic contrast to the mix. Conversely, if your restaurant is full of darker woods like mahogany and walnut, adding a brightly colored wall may be a great way to add some lightness to the ambiance.
The Takeaway
From furniture choices to lighting methods, selecting the right fixtures, and keeping track of design trends, designing a restaurant is a monumental undertaking. If you'd like to leave your restaurant's design in the hands of professionals, Planning Interior's talented designers would be more than happy to help. Give us a call at 678.732.39467 or send us a quick email at danderson@planning-interiors.com and we can get to work.