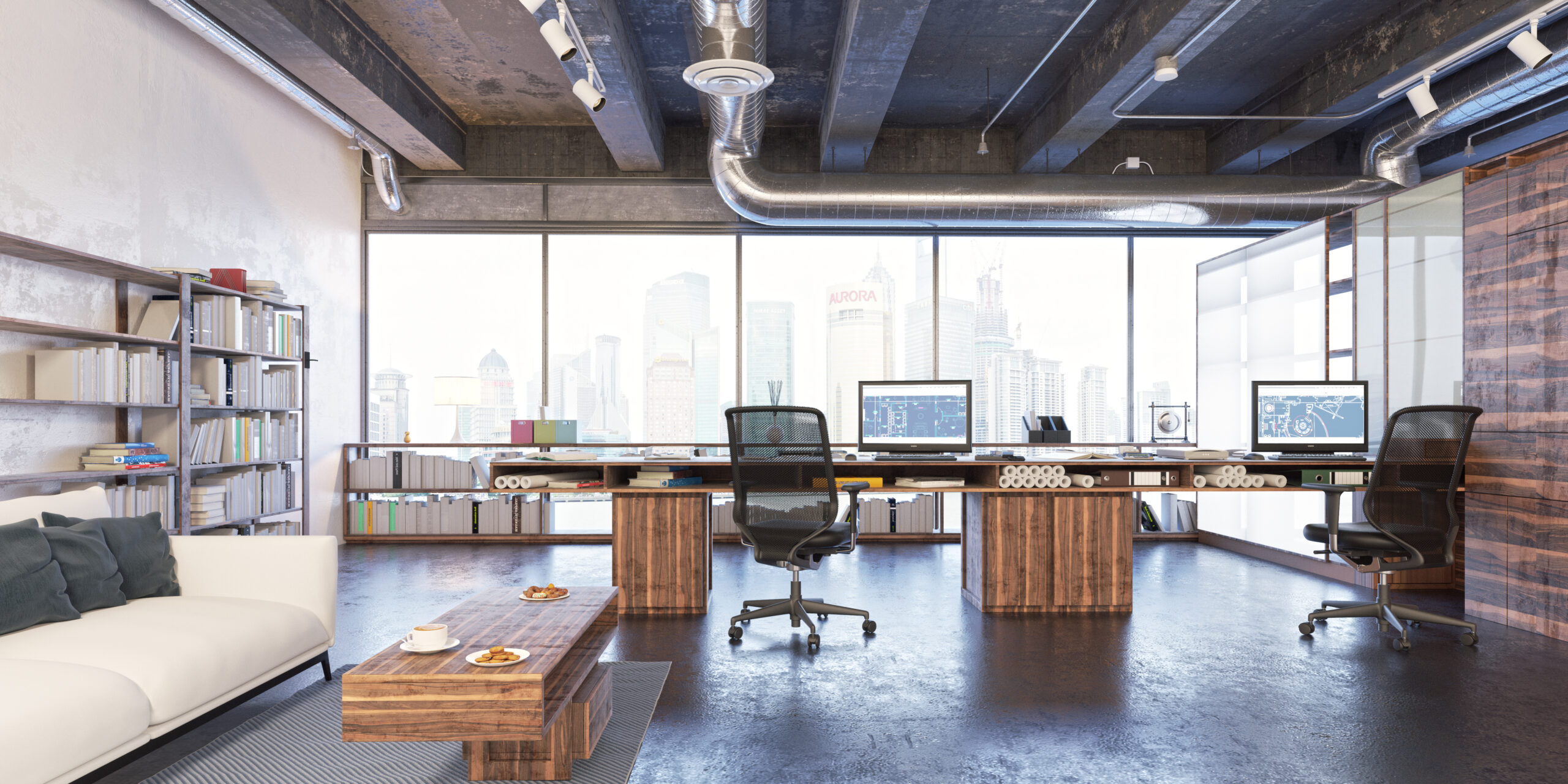 In recent years, loft office space design has become more and more desirable to both commercial real estate holders and companies that are looking for a non-traditional office space. The loft office style of design has become associated with modern, successful businesses and provides a higher lease rate for commercial building owners as well.
What is Loft Office Space Design?
When you think of the term "loft," you probably imagine an apartment in a big city with high ceilings, exposed brick, and sleek concrete flooring. Loft office space design is not much different; the style boasts open space, minimal office furniture, and is often in a converted industrial building (like a warehouse or factory) or made to look like it.
Some signatures of loft office space design include:
High ceilings and exposed duct work.
Few walls and cubicles; low cubicles if they do exist.
Minimal, industrial style furnishings and modern office furniture.
Concrete floors.
Lots of glass, such as large windows and even glass-wall offices.
Why Loft Office Space is So Popular
Loft office space has come to be associated with modern, successful businesses. Many prefer loft style offices for their aesthetic but this type of open office design is usually synonymous with an open and transparent business philosophy as well.
The lack of cubicles, or very low structures, are intended to invite open discussion and collaboration among employees. They are also meant to be a bit of an equalizer and not put as much emphasis on corporate hierarchy. In loft office spaces that do have private offices, they often have a lot of glass. The idea is to promote transparency and an open-door policy between employees and managers.
Repositioning an Asset to a Loft Office
With the popularity of loft office space design, repositioning an asset to be used as a loft office is very worthwhile for the owner. More and more commercial real estate holders are gutting buildings and repositioning them as loft offices in order to attract better tenants that will sign longer leases and pay more in rent for an on-trend office space. Buildings with loft office space design are getting leased more quickly and repositioned offices are able to keep tenants that might otherwise upgrade to a more modern space.
The beauty about loft offices is that with the decor being rather bare, it is easy to re-style and add or subtract office furniture if need be. They are great spaces to grow in or to transition from tenant to tenant.