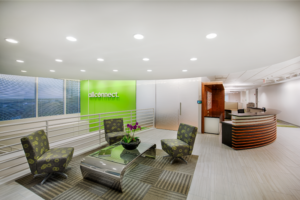 When you move into new office space, it can take a while for it to feel like home to your company. A new layout, new lighting, and a new interior can make things feel pretty alien. Fortunately, many commercial spaces have flexibility in the lease/purchase for renovations and alterations. Skip the uncomfortable (and probably less productive) phase of adjusting to a new space and make the place yours from the get-go with branding through interior design.
Brand Identity
Is your company young and hip, or more traditional and established? Exude the identity of your company through the interior design and architecture. A start-up looking to attract fresh talent might lean more towards a modern loft look, while an established business looking to maintain their reputation of stability might opt for a more traditional, classic office layout. Have the work space that projects your brand accurately to your employees, clients, and investors.
Incorporating your logo and color scheme into your design can have a big impact on driving your branding home. Tying your office space into the look of your website, products, packaging, etc. will create a seamless experience with your company and the vibe it exudes.
Your Values
It would probably seem a little odd if a company that makes eco-friendly products had facilities that didn't recycle or have efficient energy features, right? Incorporating your business values into your work space will not only help you with branding through interior design, but can also avoid losing employee or client trust if they perceive hypocritical behavior from your company.
Maintaining your values in your interior design can also mean using your own products in your office space, if applicable. It wouldn't inspire a whole lot of confidence if a tile manufacturer, for example, didn't use their product in their office space design.
Your Culture
Your company will have a tough time attracting and keeping employees that fit its culture if your workplace branding through interior design doesn't reflect it. If you are all about work/life balance, put in a game room for breaks and after-hour fun. Do you encourage socializing across all levels of the company? Put in a bar and host regular happy hours.
You can also use your office space to portray an open, transparent culture through low cubicles and glass walls. Don't force apart employees and managers with desks here and private offices over here. Keep offices partially open to the main work space or at least use one or more glass walls to encourage transparency. Common work spaces, such as long, open seating tables, are popular with businesses that want to encourage collaboration. There are a number of tactics that can be used to show your company culture through design.
Branding Through Interior Design
Maintain a cohesive brand experience by implementing your values, culture, and style into your workspace through interior design. Inspire confidence in everyone from employees to investors that your business has a strong voice and identity.