Whether we like it or not, the last two years have been particularly transformative for employers and employees. The pandemic encouraged all of us to think hard about what it really means to have an effective office space. This shift in thought encouraged some companies to completely transition their employees to a fully remote work environment, while others have adopted a hybrid office design instead to fuse remote and in-person working together.
If your business is looking to integrate elevated yet cozy hybrid office design into its commercial office spaces, we have a few key points to consider. Equipped with the right commercial interior design touches, your office space will undoubtedly encourage higher levels of happiness and productivity in employees. Here are the three main areas we recommend focusing on to create your perfect casual hybrid commercial space.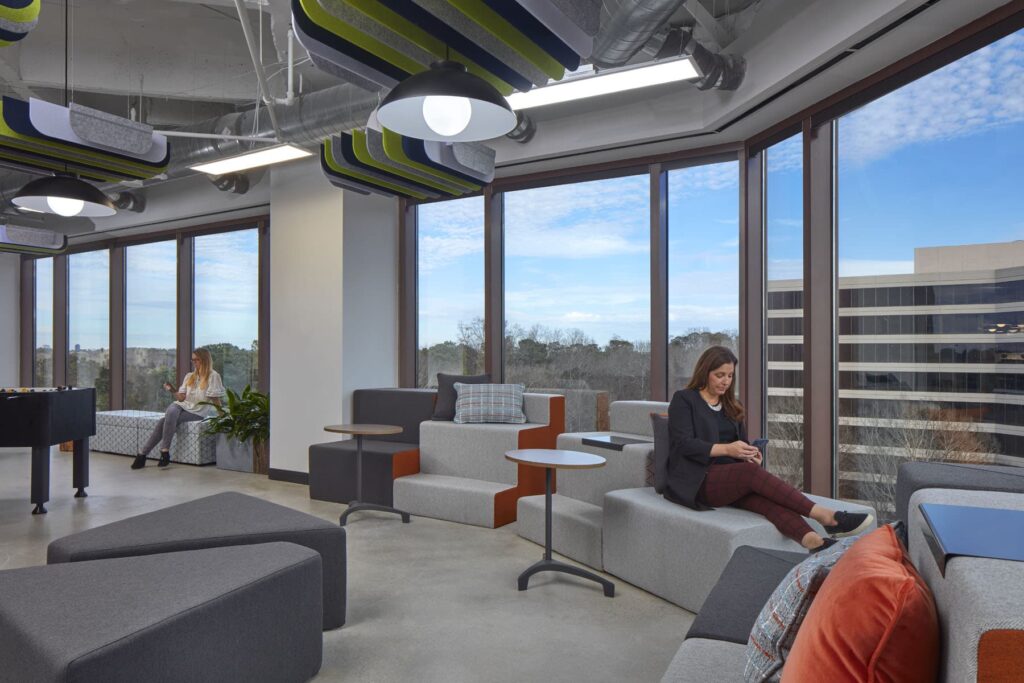 Comfortable and Functional Furniture
When it comes to the furniture you choose, keep two words in mind: comfort and functionality.
Consider adding couches, bean bag chairs, and standing desks to create a space that is both comfortable and conducive to productivity. When selecting furniture pieces, make sure to consider the various needs of your employees. For example, if you have employees with back problems, ergonomic chairs would be a thoughtful and helpful design choice.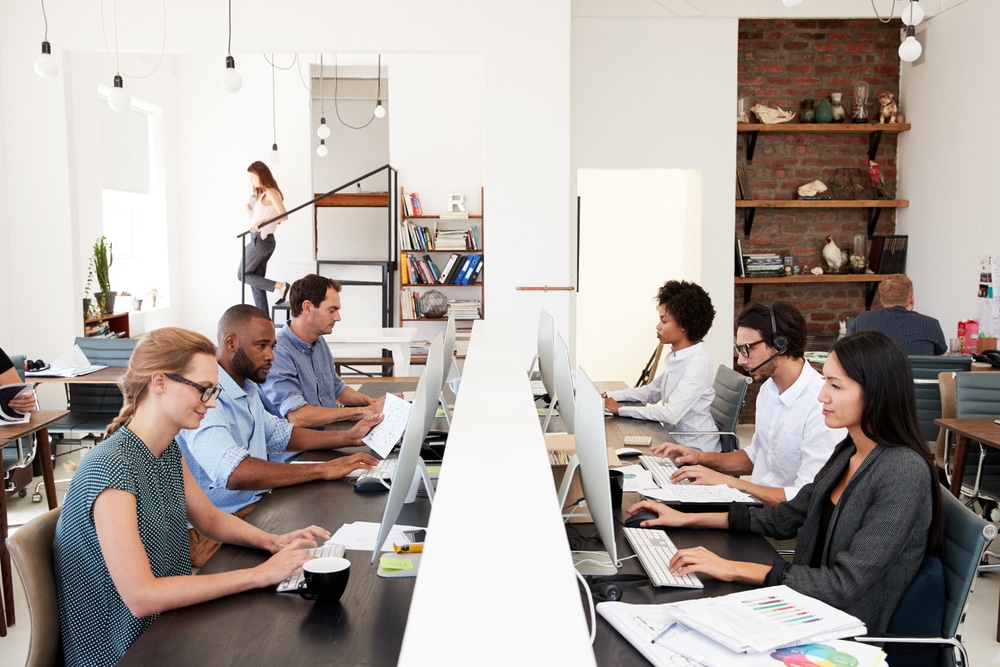 Create Dedicated Work Spaces
The layout of your office space should encourage both collaborative and individual work to accommodate as many work styles and situations as possible. Create dedicated spaces for small group meetings as well as individual workstations. You can even use pieces like sectionals and plants to create distinct areas for different tasks. In addition, if you have employees who work remotely, be sure to set up dedicated workspace for them so they feel like they are part of the team even when they're not in the office.
Get Tech Savvy
To create a truly hybrid office space, you'll need to invest in the right technology to integrate into your office spaces. Video conferencing systems are essential for staying connected with remote employees and clients. In addition, make sure your Wi-Fi network is reliable and fast so that everyone can stay connected no matter where they are working from.
Hone in on the Perfect Commercial Interior Design Style for Your Business
A casual, hybrid office space can provide the best of both worlds for employees who need to spend half of their time collaborating with their peers in person and the other half of their time working remotely. With these tips in mind, you'll have a great head start in setting your business up for success through its design.
However, every brand is different, and interior design can be complicated to get just right. You may be a completely remote company searching for a talented interior designer to help employees design their home office spaces. You may be a brand that values the traditional, in-person office space Monday through Friday and is looking to get people excited about coming to the office again. You may be a mix of both or in a different realm altogether. Whatever your goals, we believe it's crucial to speak with a commercial interior design team, like ours here at Planning Interiors, about curating the most effective space for your employees to thrive in.
Interested in speaking with our skilled designers about an upcoming project? We'd be happy to help. Give us a call at (470) 545-4906 or fill out our contact form and one of our team members will be in touch with you shortly.