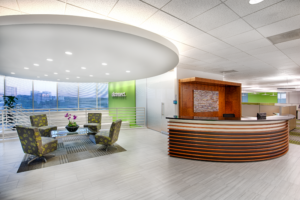 Whether your business is changing locations or just looking to renovate, hiring an independent professional commercial interior designer will transform your workplace into a sleek model of efficiency that appeals to clients and employees alike.
Think you can't afford to hire a designer? Keep in mind what your time is worth. Time taken for planning, purchasing, and installation is time not spent growing or focusing on your business.
A few other reasons why hiring a professional is preferable to going it alone:
A commercial interior designer is motivated to complete your office renovation in accordance with the project deadline you have set.
Many furniture retailers offer discounts to interior designers in order to encourage repeat sales. As their client, YOU will benefit from these reciprocal relationships.
How does your office space flow? What color walls work best with your logo? What is the best way to arrange 10 desks in 1000 square feet? These are all questions a commercial interior designer can answer.
Interior designers will design a plan, lay out a timeline, incorporate your budget and implement. How much time do you want to take away from your business and your daily tasks to do all of these things? Then there's the issue of execution.
A professional interior designer can show you past clients' renovations that may share commonalities with your vision. Furthermore, interior designers, who are independent, won't steer you to the product lines of their employer, which may be more expensive. An independent commercial interior designer can choose from a wide variety of designs and suppliers to create a mix better for your office and your budget.
Let's agree that watching interior design shows is entertaining. Especially Fixer Upper, am I right? As inspiring as these shows are and as much as you might think, I can do that, why not put the professionals to the test? We have the credentials, experience, and staff to take on any commercial interior design project around Atlanta, GA. Take a look at our portfolio and find inspiration for your commercial renovation.
To talk about your design plans for the future, give me a call at 470.545.4906.