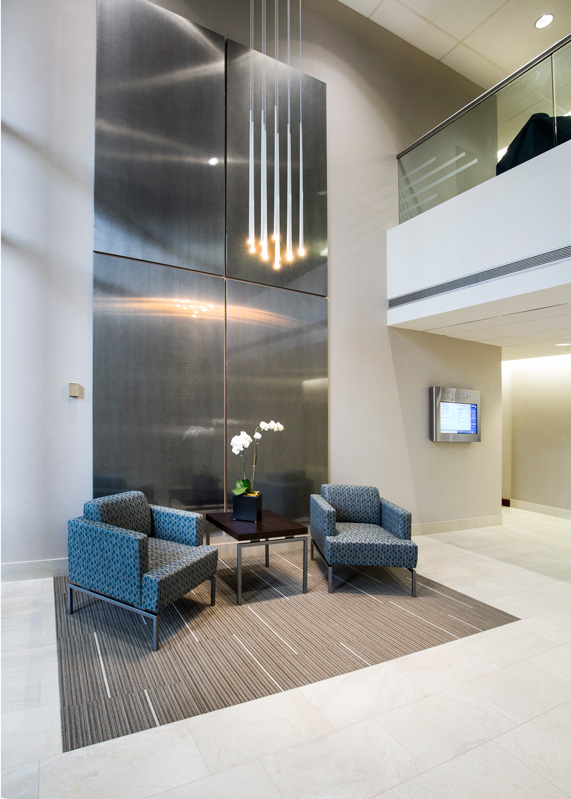 Even if you don't work in a prison, your office environment may share a lot of similarities with one. Prisons are notoriously bereft of natural elements like sunlight and plant life. The furniture and surfaces are slick and comprised of man-made materials like steel and concrete. The environment is noisy, overly bright from florescent bulbs and the color scheme is monochromatic. The purpose of prison is not to engage one's creative sense or foster cooperation, however, many bosses who espouse these characteristics are doing little to let their employees know they're not chained to their desks.
Why is it important to bring the outdoors to your indoor office space? It's really all about the bottom line. Employees who work in environments with natural elements reported a 13% higher level of well-being and are 8% more productive overall, according to a report of 3,600 workers in eight countries in Europe, Middle East and Africa commissioned by modular flooring experts Interface.
Furthermore, design elements which mimic natural materials positively impact health, performance and concentration, and reduce anxiety and stress.
We recently completed a project for Glenfield Capital that incorporates natural elements of wood, color, texture and plant life. To see the project, click here.
If a less stressed and more productive workforce is your goal, consider how an interior designer can infuse your office with natural elements by tweaking the following:
Color: One-dimensional color schemes have been found to be bland and uninspiring. For a recent project Planning Interiors Inc. incorporated soft blue touches to complement the client's location near a lake. Research has shown reactions to blue, especially light blue, include the ability to calm the mind and aid concentration.
Texture: Carpet and upholstery absorb noise in addition to making an office less sterile. The trick is to choose a pile length allowing desks and chairs to move easily and ensuring that chairs and other upholstered furniture is distinct from plush items you would choose for lounging in front of a big screen TV. Modern lines, incorporating steel into the legs for instance, helps distinguish the chairs we chose for a recent project.
Furniture: Bringing wood into your interiors is one of the easiest things you can do, and dark wood distinguishes your office furniture from brands like IKEA that use light greys and whites.
Lighting: Try to make use of existing windows and move employees into areas with natural light if possible. Many offices have a reception area that is light and bright, even though this area is seldom used by clients.
Consider this: A study conducted by the American Society of Interior Design indicated that 68 percent of employees complain about the lighting situation in their offices. The two most common scenarios for poor office lighting are lights that are too dim and lights that are too harsh.
Natural lighting renovations have been shown to result in happier workers, less absenteeism, and fewer illnesses, and, because better lighting encourages satisfaction among workers, it also results in increased productivity.
Greenery: There are many plants that can put up with a little negligence and do well indoors. These include succulents, cactus, Chinese evergreens, bamboo plants, and spider plants. For a list that includes those that improve air quality, thanks NASA, see here.
Planning Interiors Inc. can assist with plans for your remodel or new build. We can provide the inspiration and expertise to make sure your office is lively but professional and a testament to how much you value your clients and employees. Call us at 470.545.4906 to make an appointment.