A loft office is defined as a large, adaptable open space that has been converted for light industrial or commercial use. These types of spaces are becoming increasingly popular, especially with small businesses and creative companies, due to their open floor plans and collaborative nature.
At Planning Interiors, we've had the opportunity to design many loft office interiors and are here to go into more depth about why these spaces are so trendy for modern businesses.
Bruks Rockwood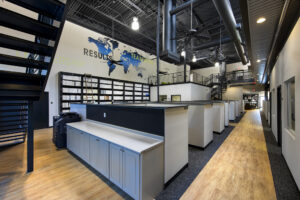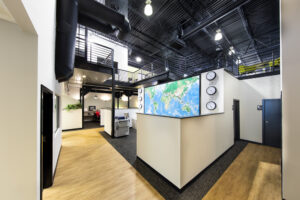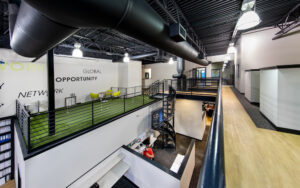 This 8,800 square foot space, located in Alpharetta, GA, was dated with blue railings and dull finishes. Planning Interiors worked with Bruks' very own CEO to choose finishes that capture the feel of a loft by enhancing the character of the existing build-out.
The exposed ceilings were painted black to match the trim and railing throughout. Light-colored wood LVT and a feature wood wall were used to create contrast against the dark carpets intended to resemble rugs under the workstations.
Equipped with a putting green, the new loft-inspired space creates an inviting and comfortable environment for the employees and their guests.
As you can see, the floor plan is extremely open and conducive to collaboration. We added in cubicle walls to the main space to give employees the option of working in their own private space as well. This loft office design has a very clean and modern feel with black metal accents and light wood floors.
View the full Bruks Rockwood loft office portfolio here!
Definition 6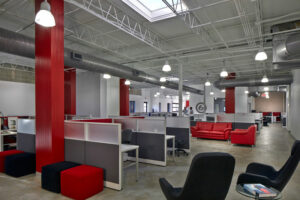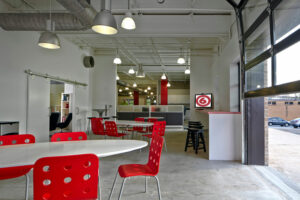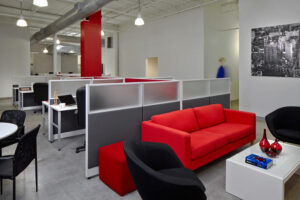 When designing this open concept loft office space for Definition 6 at the Armour Junction Lofts, we envisioned a one-of-a-kind modern office space with exposed duct work, large skylights, huge windows and roll up garage doors in the breakroom.
When we first saw the space, it was pretty difficult to envision it as a modern loft, but we knew we could turn it into a modern and contemporary office in no time. We completely renovated the space and created extensive conference rooms, collaborative areas, spacious offices, and open work stations.
The design is meant to facilitate both team collaboration and productive individual work in varying office spaces. It was very rewarding to see the transformation of the old building into a contemporary, modern office. Complete with clean builds and unique roll-up doors, this space is a small business' dream!
Check out the whole Definition 6 loft office portfolio here.
EpiCity and Epic Development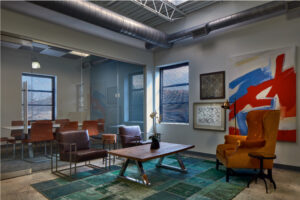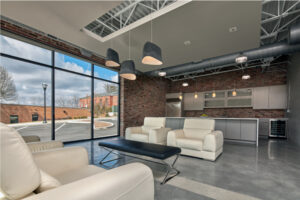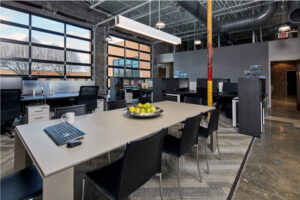 This project was as close to the definition of "loft office" as you can get! We transformed an old machine shop into a modern loft office space for a commercial real estate and residential development company, EpiCity and Epic Development.
There was a lot of attention to detail and consideration as to how individuals work, with custom built-in desks and the incorporation of a loft look while retaining a comfortable residential feel. The lobby was designed to be a high-end residential showroom yet function as an everyday office and collaboration space. Special attention was paid to facilitate open collaboration and access to all-natural daylighting.
View the full EpiCity and Epic Development loft office portfolios here.