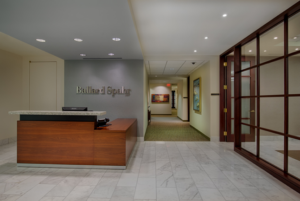 The reception area is where the first impression of your business occurs for your guests and clients. It can even be argued that office reception design is the most important design in the office! You must blend functionality, professionalism, and style to ensure your reception area sends the right message to whoever walks into your place of business.
Various design elements, like color, materials, layout, and branding can make a statement about the values of your company. And let's be honest, no one enjoys being in the waiting room for longer than they have to, but with these great tips, you can make guests as comfortable as possible while they're there!
Traffic
When arranging your reception space, you need to determine where your guests will be entering and exiting and make sure these areas are clearly marked and unobstructed. There's nothing worse than entering an office building for the first time and being lost and confused as to where you're supposed to go.
You want to make sure foot traffic can flow freely while also being clearly marked with either signs or furniture to guide your guests to the reception desk. Traffic might even be smoother if you have a separate exit to keep everything moving in one direction!
Colors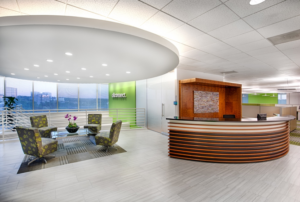 The colors of the furniture, walls, and fixtures can have a direct effect on the way your visitors feel. A great way to choose the colors of your lobby is to translate your company values and branding into this physical space.
If you are designing a waiting room for a doctor's office, calming and reassuring colors such as green or blue with a touch of pink for compassion work best. In other office reception areas, such as a salon, a shade of pink may let your clients know they are going to be pampered, while yellow and red may cause anxiety and aggression.
Furniture
The most important part of a reception area is the reception desk. This should be the focal point of your waiting area and easily viewable and accessible from the entrance. All the main furnishings should have a cohesive look to indicate a well-rounded design. Invest in stain and wear resistant furniture to ensure longevity and easy cleaning.
When it comes to your office reception design, the seating pattern of your reception area is also important. Clients typically do not want to sit with their backs to any doors. A square or U-shaped arrangement allows guests to decide how they would like to sit. Make sure the seating is also comfortable and accommodates all guests.
If you're considering a lobby or office redesign, give us a call at (470) 545-4906. Planning and designing office entrances are our specialty!