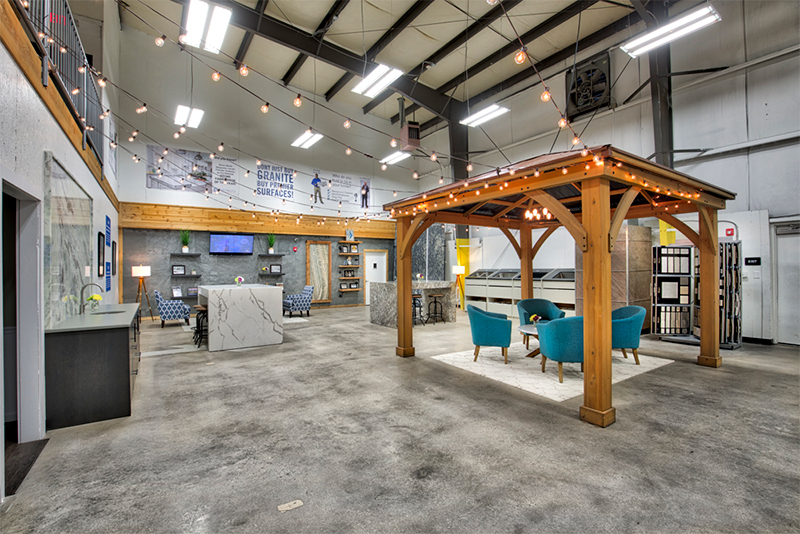 The showroom is the most important part of any office that sees clients. Rather than taking visitors to a conference room and pulling out a dusty binder to go over commercial interior design options, create a dedicated space to meet with clients and have a hands-on experience with the products. Upsells will increase when they can see the difference in quality between price points and your closing rate will improve when they can touch and feel the items helping them towards a decision. Take the opportunity when designing a showroom to foster a space where both your staff will love to work and clients will love to visit.
Incorporate Your Products in the Showroom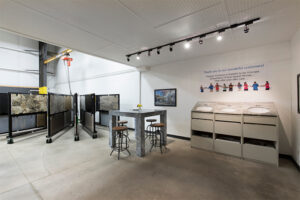 If applicable, put your products to use in the showroom! Of course, you always want to have samples to view, but an even more effective way to sell your products is if you are able to show those items in action. Build your showroom around your product – select colors that will serve to accentuate and not distract from them, and keep other décor streamlined and minimal.
Set up an aesthetic and user-friendly way to view samples, whether your product is used in your showroom design or not. Customers will want to see and touch the different types available, not just flip through photos. Even better are samples that can be taken home with customers to try out.
Create a Space to View Samples and Meet with Clients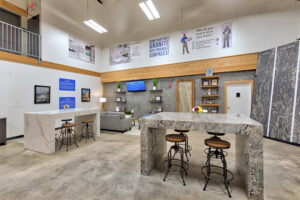 Use your showroom as a space to meet with clients to go over projects and comfortably chat over samples. Create a few spots with tables and chairs, and if you have a particularly busy showroom, set up a few spaces a little off from the main area to allow for quieter, more private meetings on busy days too.
Do not force everyone to stand around; by having a large table you can lay out different options and mix and match samples. Give everyone a comfortable space to ponder options and discuss next steps.
Don't Forget the Waiting Area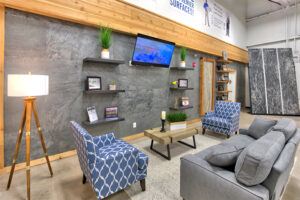 Even for showrooms that only see a few visitors a week, a waiting area is vital to a comfortable client experience. Give your visitors a space to wait in comfort and not feel like they are in the way if they arrive early or their sales rep is not quite ready to meet with them yet. The worst thing you can do is leave someone awkwardly waiting in a busy hallway.
Take the opportunity with the waiting area to make a great impression on your clients with eye pleasing décor and incorporate your products into the space as well.
Designing a Showroom
The main goal of your showroom is to sell your product. In order to do that, create a space that both clients and employees feel comfortable in that showcases your products well. Designing a showroom like this will increase your sales and minimize lost opportunity due to a poor impression by an unpleasant sample selection experience.