The world of business is always changing and has been for centuries. With each new modification, companies have adapted to meet it—whether it be incorporating new technologies, adjusting employee retention models, or rethinking office design. In fact, modern office design is both one of the most overlooked and most essential aspects of a successful business.
The office is the center of everything your business does and stands for. It is where meetings are held, the spot where customers interact with employees, and the environment where work is completed on a day-to-day basis.
It's no secret that flexible workspaces are at the top of many employee's priority lists in the wake of the pandemic.
If your business hasn't done so already, now is the time to make sure your working environment is not only up-to-date, but the best of the best.
Here are our biggest tips:
Allow for Variety & Flexibility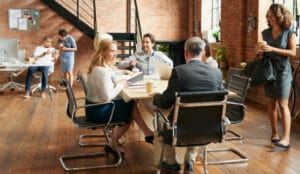 New, modern office spaces allow for a variety of different work environments. Not only do employees work best in environments that suit their working habits, but different types of work require different kinds of spaces. You'll need places for quiet work, places for collaboration, and places for socialization.
For example, activity-based spaces are a go-to office design style that many commercial interior designers are using in 2021. These office spaces are highly versatile, easily configurable, and instantly accessible. Activity-based spaces are also agile and support rapid changeover. Because they're used when needed, activity-based environments are smart paths to efficient space utilization.
Incorporate Active Furniture
The variety and flexibility of a workplace can come down to the smallest details—including the furniture you choose to include. For a happier, healthier team, try incorporating active furniture instead of relying solely on the traditional desk and chair setup.
Active furniture includes the likes of ergonomic chairs, pedestal stools, saddle chairs, adjustable-height desks, and even treadmills and bike chairs. Providing an array of seating options and work-surface options allows your team members to change positions often, which in turn helps them avoid the physical strain that comes with sitting for 8 hours a day.
Be Proactive About Sound Reduction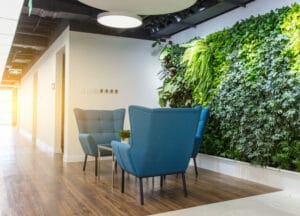 When planning for any office space, sound reduction should be a top concern. Large, open spaces are known for being extremely noisy, which can detrimentally affect your team's productivity.
Incorporating sound-abatement tools around the office is an easy way to prevent this from happening. Here are a few of our favorites:
● Acoustic ceiling and wall panels
● Vinyl Flooring
● Soft furniture (think fabric couches and chairs)
● Plants
Use Colors and Artwork to Your Advantage
Some offices capture people's attention in the sense that they utilize a bright, neon-tinted color palette. Obviously, this is one way to draw the eye and influence mood, but one can often produce the same (or similar) effect by integrating compelling artwork into their workspace. In addition, natural light and plants are both cost-efficient measures to invigorate a drab office atmosphere.
If Possible, Add Outdoor Spaces
While it may not be possible for every office, if you have the chance to provide your employees with an outdoor space to stretch their legs, have lunch, or even get some work done in the sunshine, do it.
Patios, balconies, rooftops, or other outdoor environments that are furnished with chairs, small tables, or even a cornhole set, can make all the difference to your employees' moods, productivity, and creativity.
Eager to Modernize Your Workplace?
With Planning Interiors, you can rest assured that our commercial real estate interior designers have the expertise and experience to create the perfect working environment for you and your team. Call us at 678.732.3946, or drop by our office and we can work together on refreshing your working environment today.